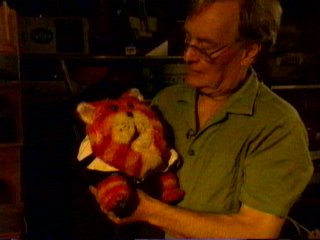 RIP Oliver Postgate 1925-2008
Before all the hi-tech CGI this and Blu ray that, when life seemed a tad slower and less complex, there was a whimsical Film making Magician called Oliver Postgate.
A genius of stop-motion, his gentle tales of whistling Moon Aliens, talking Trains and a certain saggy old cloth cat enthralled millions of children in the 50s, 60s, 70s and garnered new generations of young fans with constant TV repeats and DVD sales.
Remember the innocent joy of Bagpuss, "The most Magical, Saggy old cloth cat in the whole wide world", Noggin the Nog, Ivor the Engine, The Clangers, Pingwings, The Pogles of Pogles Wood?
Thanks for the childhood memories Oliver, sleep well.
http://www.oliverpostgate.co.uk/intro.html
http://www.smallfilms.co.uk/
http://www.imdb.com/name/nm0692927/